There is something very special about the name of a pub and the sign it has outside and, when we are working on a pub refurbishment, it's something we always bear in mind.
The origins of inn signs go back to the Romans, when vine leaves would be hung outside of a 'tabernae' to indicate that wine was sold there. In Britain, where ale was more popular, these were usually substituted for small bushes. Early pubs might also have long poles or ale stakes hanging outside to indicate that they sold wine and ale.
The naming of inns and pubs became common by the 12th century and most would include not just the name written out, but a drawing or symbol as well – as the majority of the population could not read or write.
Interestingly, in 1393, King Richard II passed an Act making it compulsory for pubs and inns to have a sign, in order to identify them to the official ale taster or ale 'conner'. These were people sworn to 'examine and assay the beer and ale, and to take care that they were good and wholesome, and sold at proper prices according to the assize; and also to present all defaults of brewers to the next court-leet'.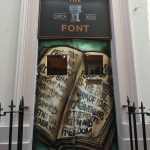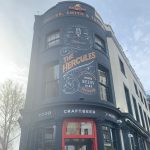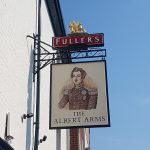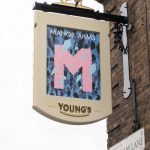 While this sounds like a great job, ale frequently went off in the times before the introduction of hopping, so there would be plenty of unpleasant ales to taste. Also, as a dispenser of fines, they were unpopular individuals and not welcomed at the inn.
According to The Morning Advertiser, The Red Lion remains the most popular pub name in the UK, followed by The Crown, The Royal Oak, The Plough and The Swan/Swan Inn. Whatever the pub is called, there's likely to be a story and some history behind its name.
Today, coupled with the tradition of a pub sign, we recognise that signage is very much of a pub company's overall brand. Sometimes it is a careful balance between maintaining the history of a venue, while acknowledging that it is part of a wider group and needing to incorporate that. Corporate signs welcome and instruct, direct and protect, but they're also instrumental in presenting that vital first impression. There's so much to consider, from typeface and colour to style and size.
Sometimes chains today will use the same designer to produce all the signage, carefully balancing the corporate branding with a pub name which might have been in existence for hundreds of years.
While venues we work with can often have a fairly free hand with what's inside their venue in terms of design – depending on the limitations of the building – when it comes to the outside, there can be certain restrictions and planning constraints. In a city centre, it might be appropriate to add bright, well lit signage, while on the outside of a pub in a quiet village, that's unlikely to be the case. Some signage may well fall under planning restraints from the local district council as well, with additional permissions needed if the building is listed.
Signage is a specialist area and, here at PSE Associates, we have a team which has the skills and experience to help clients with their signage.
We have recently been working closely with our client Youngs on its replacement corporate signage roll out programme and have been involved from the conception, through the design stages as well as and making the necessary applications to the local authorities, to the physical implantation of the signage replacements on in excess of 150 sites.