The beginning of a New Year brings with it resolutions – with joining a gym top of the list for many people. During the first couple of weeks of January, gym memberships, weight loss groups and fitness class sign-ups always see a surge in popularity.
However, according to the sports participation platform, Strava, it doesn't usually take long for people to give up on their New Year's fitness resolutions. In fact, January 19 has been dubbed 'quitters' day' when a lot of people give up going to the gym.
That said, there are currently more than 7000 health and fitness clubs in the UK, with about one in every seven adults with a membership, according to the Leisure Database Company. Only Germany has more health and fitness club members in Europe.
Here at PSE Associates, our work in the leisure and hotel sector, means we are experienced in providing Quantity Surveying and Project Management support to establishments such as gyms, spas, health suites and sporting facilities.
We have been supporting Home Grown Hotels since its conception by its founders Robin and Judy Hutson. Last year saw the launch of their latest PIG at Bridge Place near Canterbury in Kent. This is the sixth PIG for which we have provided Project Management and Quantity Surveying services for the PIG and we are currently working on two more sites that will shortly be further additions to the litter!
In most cases, hotels generally include a relaxation space in some shape or form and the Kent-based PIG site is no exception. If you escape through the walled kitchen garden at the property, you'll find the Potting Shed treatment rooms. They really do have the feeling of being in a potting shed, but a luxurious one!
A few years ago, we supported a private members only club with their development in Oxfordshire. The development included a 25 metre outdoor infinity pool connected to a 16 metre indoor pool, heated to 30 degrees all year-round. It also included a steam room and sauna, while outside, there is a bar offering light refreshments.
We also worked with another prestigious spa development located deep in the New Forest National Park. Designed over three levels, the spa facility boasts a massive sauna and indoor hydro pool with stunning forest views, a mud house, a steaming outdoor hot pool, eight spacious single treatment rooms and two double treatment rooms.  There's also a state-of-the-art rooftop gym, a 16 metre indoor lap pool and a workout studio offering an extensive range of fitness classes.
We are currently working with the Chewton Glen Hotel, providing Quantity Surveying and Project Management services for the extensive refurbishment of their indoor pool, hydrotherapy pool and dance studio in 2018.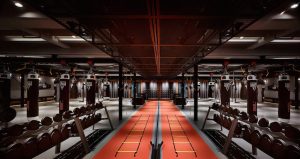 In addition to these hotel sites we are working with SYNC gyms and Gymnasium and have also provided Quantity Surveying and Project Management support to Goals – a business providing five-a-side football pitches across the UK.
Whatever 2020 brings, and no matter how long New Year's resolutions last, we at PSE Associates will always be happy to assist with any sports or leisure developments being planned.